Workers demand dignity
£15 per hour now!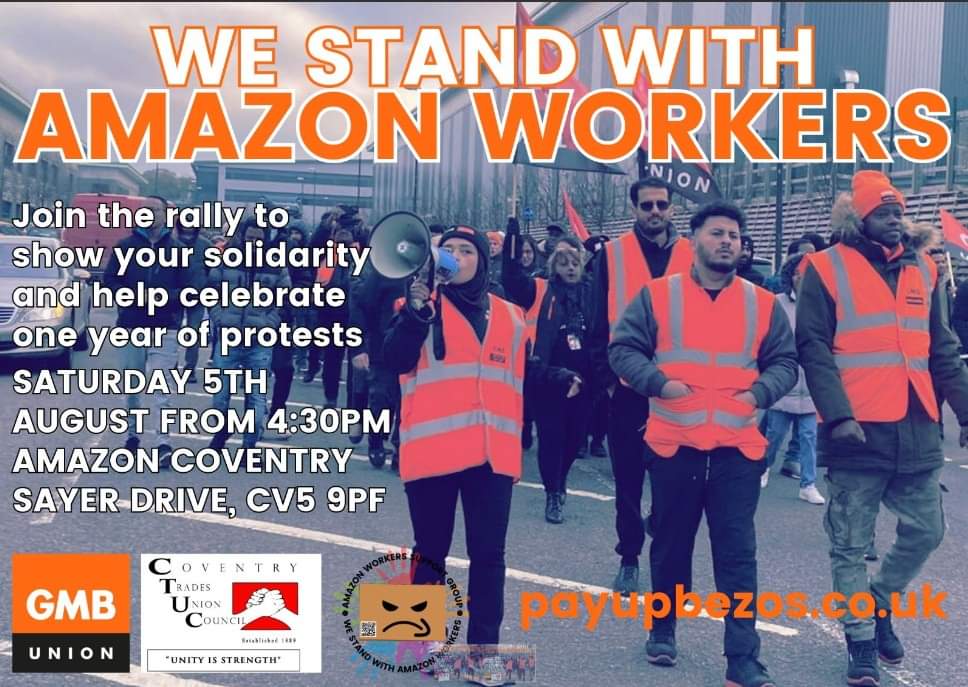 Thousands of Amazon workers in Coventry, the UK and internationally have been joining trade unions to demand fair pay and dignity at work, in a massive mobilisation of the trade union movement.
The first strike by hundreds of workers took place at Coventry Amazon in January following earlier wild cat action across the country by Amazon workers following an insulting rise of 50p an hour.
Subsequent industrial action and pickets resulted in workers flooding into the GMB trade union. On Saturday 5th August a massive rally will take place.
Workers recognised that if they were going to get anything better than the derisory 50p pay rise offered by Amazon they would need to join a trade union and fight.
Many of the workers are young, women and come from different ethnic communities in Coventry. Care has been taken to ensure all workers feel part of the struggle.
INDUSTRIAL ACTION BUILDS THE UNION
Amazon is renowned as being anti trade unions and has been trying desperately to flood the plant with new workers to stop the GMB reaching the 50% of workers to gain formal union recognition at the site. Unfortunately for the Amazon bosses many of these workers are joining the GMB as well. They can fiddle as much as they like but the GMB will win!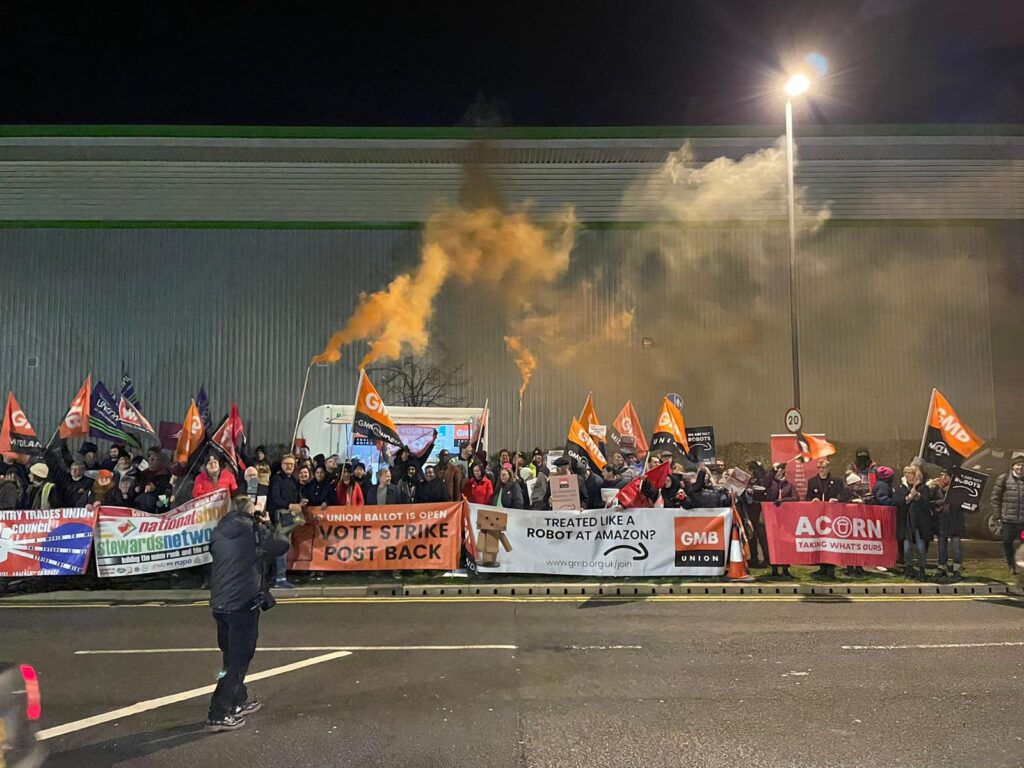 WORKERS DEMAND THAT AMAZON RECOGNISE OUR UNION
Trade unionists and members of the community in Coventry & Warwickshire know this will be a big fight but it is fair to say Coventry remains a relatively strong trade union city with good links and a history of solidarity. Support groups will be formed across the country following on from the initiative in Coventry.
Messages of support and donations have already been received from local, regional, national, and international workers including Amazon workers in trade unions fighting the same struggle. Please send support and join the protests in Coventry and at other sites that will be taking action in the future.
THIS STRUGGLE HAS BEEN A REAL INSIGHT INTO HOW THE WORKERS' MOVEMENT CAN BE BUILT
It has been brilliant to see these workers leading thr strike and the trade unions across the city and beyond giving solidarity. I am proud that both Green Left and the Green Party Trade Union Group have sent support.
As Green trade unionists and Ecosocialists we recognise the absolute right for workers to be represented by a trade union, that the Tory anti Trade Union laws must be removed and that workers just transition rights must include a right to decent pay and conditions.
Roy Sandison member of the Amazon Workers Support Group (Personal Capacity). Green Party Trade Union Group Member and Green Left member.