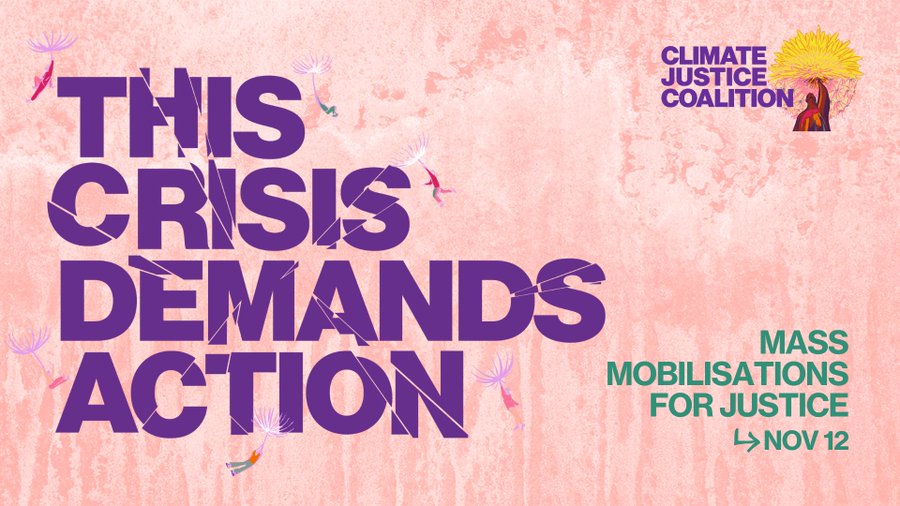 The COP26 Coalition has called a demonstration on November 12th assembling at noon at the Shell Centre on London's South Bank. This will be one of many protests across the UK.
The Coalition has made the following statement:
Global temperatures, rising. Energy bills, rising. Billionaire profits, rising. While people are being forced to choose between heating and eating, energy companies are making record-breaking profits.
From bailouts to big business, ramping up more deadly fossil fuels to trashing nature and cutting our wages the Government is refusing to listen. Their policies both here and globally are causing devastation with working people and people of colour – who have contributed the least to the problem – paying the price with killer famines, floods, crop failures, fires and rising poverty.
To stop this crisis we need action that cuts carbon, tackles inequality and ends the injustices baked into our world.
This year world leaders will meet in Egypt for COP27 and African movements have called for a Global Day of Action for climate justice. Communities in the global south need urgent climate finance and reparations for the loss and damages that have caused mass destruction of lives and livelihoods. The UK government must stop its climate wrecking plans and implement real climate solutions that solve both the climate and cost of living crisis and ensure that everyone has a right to live with dignity.
Justice won't be handed to us by world leaders or delivered by corporations. We need to organise in our communities and ensure that not only is no one is cold or hungry this winter but that we stop the headlong rush into climate catastrophe.
Get organised, bring your banners, instruments and people and join our demonstration on 12th Nov!
To find out more about the Climate Justice Coalition (transitioning from the COP26 Coalition) or to find out where else in the country we are holding events go to our website;
In solidarity,
The Climate Justice Coalition
#ThisCrisisDemandsAction
If you have any accessibility issues please email info@climatejusticecoalition.uk
if you are interested in helping to organise or do something on the day please email info@climatejusticecoalition.uk
Details of demonstrations on November 12th
LONDON – Shell Building 12:00
EDINBURGH – St Andrew Sq 12:00
NEWCASTLE – Grey's Monument 12:00
BIRMINGHAM – Victoria Sq 14:00
SHEFFIELD – Barkers Pool 12:00
BRISTOL – College Green 12:00
PLYMOUTH – Guildhall Sq 11:00
SOUTHAMPTON – Guildhall Sq 12:45
CARDIFF – Cardiff Crown Court 11:00
SWANSEA – Castle Square 12:00
CARMARTHEN – Carmarthen Park 12:30
BLACKPOOL – location tbc.
EASTBOURNE – location tbc.
CORNWALL – location tbc.
DERRY & DUBLIN – organised by CJC Ireland
BELFAST – organised by CJC Belfast
LEICESTER – Clock Tower 14:00
LEAMINGTON SPA – Pump Room Gardens 12:00
MARKET HARBOROUGH – Old Grammar School 13:00